Sarah Brown Memorial Fund
The Sarah Brown Memorial Fund will be used to support highland dance in Manitoba which was Sarah's passion. Sarah, a student of the McGregor Studio of Highland Dance and also friend of many MHDA highland dancers was involved in a fatal car accident. Sarah was also sister to Shawn Brown, a Lord Selkirk Boy Scout Pipe Band Alumnus. Cheque donations can be made to School of Scottish Arts, Inc. or Sarah Brown Memorial Fund and sent to c/o 3375 Vialoux Drive, Winnipeg, Manitoba, R3R 0A5.
For more information, please contact School of Scottish Arts, Inc. c/o ballater@mts.net.
Further to this Fund….
Dedication Ceremony of "Sarah's Swords"
On Saturday, June 6th, 2009, a special dedication ceremony of "Sarah's Swords" took place at the beginning of the morning awards at the Forks Market during the Mid-Canada Championships and Competitions. Sarah Brown who was a student and assistant teacher of mine, passed away as the result of a vehicle accident on September 10th, 2007 at the age of 20 years. She was the Beloved daughter of Phil and Cyndi Brown, long time members of the Manitoba Highland Dancers' Association and supporters of anything Scottish. She was sister to Shawn, a former member of the Boy Scout Pipe Band, 177 Air Cadet Pipe Band and currently with the Queen's Own Cameron Highlanders. During the many years she was a student of mine, I noticed that she naturally gravitated to the young dancers, especially the Primary dancers of whom she so dearly loved, and they her. In her soft spoken way, she was able to guide these Primary dancers along their first basic movements and steps for which they will long remember.
Sarah always loved the challenge of a good strong Sword Dance, executing her infamous split high cuts with grace and ease. All her dance mates would stand in awe as she, with no bother at all, would extend her little legs out the widest – always the winner in the split high cut pretend competitions we had in class! It is only fitting that in honour of Sarah's name that the beautiful, white handled flat swords be used in the Primary Class at any and all competitions held in Manitoba. The swords are inscribed with Sarah's name as well as, "Airson gaol air dannsa" which is "For the Love of Dance" in Gaelic flowing down each blade.
History tells us that the Sword Dance is a dance of victory. Each Primary dancer who is fortunate to dance over these swords will be victorious regardless of the competition and will be told one day all about the young, beautiful girl who won her victory in Highland Dance as well!  – Gaelyn McGregor
Beth Gibbon
Honourary Member Beth Gibbon, a member of MHDA since 1966, Mother of M'Liss Bunting, passed away Tuesday, Feb 17, 2009 from pneumonia and other complications. She was president of the association from 1973-1975. Beth also convened and co-convened the Tartan Tea on numerous occasions. Raised by Scottish parents, Beth's love of all things Scottish kept her involved in MHDA long after her daughter had stopped competing. For more than 20 years, she took a keen interesting her daughter's dancing students and their achievements. She continued to volunteer her time, scoring at the competitions, until recent years. She will be missed! Slan, Agus Beannacht Dé, Beth.
Marlene Treichel
Honourary Member Marlene Stephen (Treichel) (sister to Lynn Stephen and mom to Marnie Treichel Wilson and grandma to baby Fiona Wilson) passed away Tuesday, Jan 19, 2009 from cancer and other complications. She loved everything highland and was an amazing supporter of dancing and piping.
For years she was the Pipe Major of the Heather Belle Ladies Pipe Band. She was the President of the Manitoba Highland Dancers' Association in earlier years, and most recently, the President of the Prairie Pipe Band Association of Manitoba.
She will be missed! God speed, Marlene.
Lynn Stephen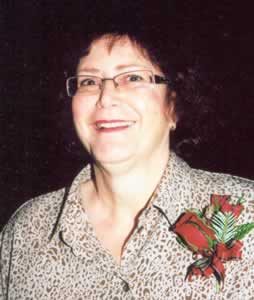 With sadness we announce Lynn Stephen's passing. She died peacefully on Tuesday, April 10, 2012. Lynn's passion and expertise was working with children and teaching. Following graduation from University of Winnipeg (BA 1971), she worked as a Child Life Specialist at Winnipeg Children's Hospital, specializing in play therapy, medical play, art therapy and pre-operative teaching. In 1987 Lynn left this role to focus full-time on the Lynn Stephen School of Highland Dance, which enabled her to continue her work with children, focus on her Scottish heritage, and use her creative talents as a choreographer. For over 40 years Lynn taught and mentored children in Highland dance, some as young as age four through to adulthood. She viewed dance as an opportunity to learn life lessons, build character, develop caring relationships, and develop good citizenship.
Lynn was a Member of the SDTA, ScotDance Manitoba and ScotDance Canada and Honorary Member of the Manitoba Highland Dancers Association. When Lynn formally began the Lynn Stephen School of Highland Dance, in 1968, she set a high teaching standard which she adhered to faithfully for her entire career. Her dancers' achievements over her career are a testament to her philosophy, her work ethic and her passion for Highland Dance. Lynn had a special teaching process, and when used along with her dedication and patience she could bring out the best in each individual dancer. Lynn had an exceptional talent for choreography.  She had the ear for great music and the eye for intriguing, innovative movements giving her dancers the tools for wonderful performances. Lynn was like a 2nd mom to many dancers.  She spent countless hours to help dancers be successful in many walks of life.  Her relationships were not ALL about dancing…it was about life lessons, mentorship.
As a ScotDance Manitoba member, Lynn was always actively working towards growth of Highland Dance in Manitoba. She was innovative in her thinking with the needs of all dancers as a motivating force. She was instrumental in planning many professional sessions and amateur workshops bringing in wonderful colleagues from across the country and overseas to share expertise and delight our dancers. She saw the value in cultivating the Scottish connection and providing opportunity for our dancers that they might never otherwise have had. In 1995, she co founded the Winnipeg Scottish Festival Manitoba Open Championship and Highland Dance Competition. SDM was fortunate to work with someone who had incredible organizational skills.  Regardless of which position she held on the executive, Lynn contributed her ideas and devoted her time to solve problems.  She was ever mindful that teaching dance was not about us as professionals, but it was always about the dancers, our children, her kids.
ScotDance Manitoba will be forever blessed because Lynn was a member. We will carry with us her passion for dance and continue the path she forged.  She inspired us, made us think a little deeper and her actions reminded us that when we work together, we can bring the world to our doorstep, we are stronger for it and it is our dancers who will always benefit.
2008 Sharing Scottish Spirit Honour Awards
MHDA has established an annual perpetual trophy called the "Sharing Scottish Spirit Honour Award" , in memory of Beth Gibbon and Marlene (Stephen) Treichel. It is in recognition of both a Pre-premier and Premier dancer who through their volunteer participation in MHDA Dance Outs has shown their dedication to our association and goal of preserving Scottish heritage through dance.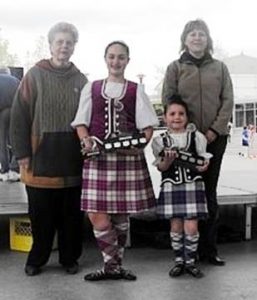 Pre-Premier
Giselle Morrison is presented her awards in memory of MHDA Honourary Member Beth Gibbon by her daughter M'Liss Bunting for participation in 10 Dance Outs. Honorable Mention received by Pre-Premier Dancer runner-up Landen Miele for participation in 6 Dance Outs
Premier
Leanne Miele is presented her awards in memory of MHDA Honourary Member Marlene Stephen by her mother Mrs. Margaret Stephen for participation in 8 Dance Outs. Honorable Mention received by Premier Dancers: Caitlin Spellman, Gillian McIvor, Julia, Emma and Veronica Domke with a 5-way tie for participation in 5 Dance Outs.