DONNA CRAM
HONOURARY MEMBER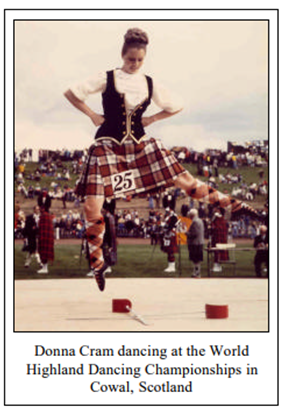 We were very pleased to announce at the 2006 Tartan Tea that Donna Cram had been made the newest MHDA Honourary Member. Donna is very worthy of this honour due to her significant contributions to Highland Dance as a dancer, teacher, judge and builder of the sport. During her long career as a dancer, Donna was one of (if not the) most successful Manitoba highland dancers:
10 time Manitoba Adult Champion
4 time Canadian Adult Champion
4 time Canadian Open Champion
Intercontinental Adult Champion
Commonwealth Adult Champion
3rd runner-up in the Juvenile World Championship
1st runner-up in the Adult World Championship
Donna says that besides her many championship wins, one of her best memories as a dancer was the opportunity she had to tour Canada and the U.S. for three months with Andy Stewart and the White Heather Concert.
Donna began teaching while she was still competing herself and is now teaching her second generation of dancers. Donna becomes much more than just a teacher to her students. Leading by example and setting high standards, both in dance and in life, for herself and her dancers, Donna becomes a mentor to her students. The profound effect that Donna has on her students is exemplified by the success they have had in competition, in school and in their careers.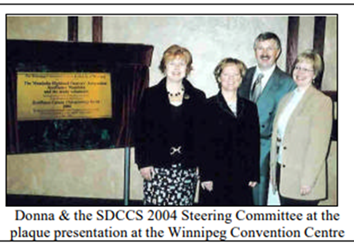 As Co-Chair of the ScotDance Canada Championship Series held in Winnipeg in 2004, Donna's leadership helped make this one of the most successful Championship Series ever, both in terms of organization and funds raised. Due to the financial success of the series, scholarships are being put in place that will benefit dancers for many years to come and MHDA has reserves that will assist with operations until the next Championship Series is held in Winnipeg once again. Donna was instrumental in leaving this legacy for MHDA.
Donna has also given back to highland dancing by becoming a judge and an SDTA examiner. Donna says she is looking forward to her years as an examiner as examiners seem to continue on, well into their twilight years! Donna says that her major delights in all her dancing years have been her students and the goals they have set and accomplished, as well as the opportunity highland dancing has given her to travel throughout North America and Scotland while dancing, teaching and judging. Donna's love for and commitment to highland dance is obvious through all that she has done and accomplished and through the mentorship of her students, Donna has ensured that her love for highland dancing is being passed on to future generations.
We are very pleased to be able to thank Donna for all she has done for highland dancing in Manitoba by making Donna an honorary member of MHDA.